A friend of mine got wedded recently and wanted his wedding party to have a setup with a big pushbutton that people could bash in order to take a picture of themselves. He asked me if I could design something bombproof that would survive the usual wedding party shenanigans.
Design
The idea was for people to be able to take pictures of themselves with a DSLR connected to a laptop. The last picture taken would then be shown on the laptop's display. However, my friend didn't want people messing about with his laptop, so there had to be a way to make those pictures without using the mouse or keyboard. That's where the big USB-enabled pushbutton comes in.
The electrical part of the build is very simple, and identical to my programming pen's USB interface: an Atmel ATTiny85 running V-USB with a pushbutton connected to it. The firmware running on the ATTiny was modified to emulate a mouse, instead of a keyboard, because the hotkey for taking DSLR pictures with the laptop was simply a left mouse button click.
The button had to be virtually indestructible and preferably able to withstand people spilling drinks over it. I found some large 10 cm diameter buttons on eBay, from user laptop_powers (whom I can highly recommend, excellent and swift communication). Later on, I found the same buttons being sold by SparkFun.
Of course, the pushbutton and the electronics needed a housing. After some discussion with friends (thanks Thomas!), it was decided that a laser cutter would be used to make 9 mm MDF slices forming kind of a half sphere, with a cavity inside and a removable cover on the underside to seal everything up. The pushbutton was to be screwed to the the top, with the electronics contained within the inner cavity.
Execution
Making the design was quite straightforward, except for some USB problems with the ATTiny, which solved themselves after replacing the chip with an identical one. The housing was put together with wood glue, then spraypainted with glossy black acrylic, and finally varnished. The final touch was a decal underneath the top cover. Below is a picture of the finished button.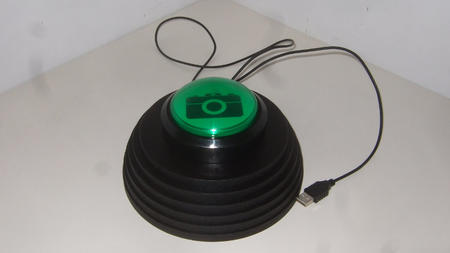 And was it a success? You bet!